Thought Leadership Series
Project Financing in an Evolving Energy Market: Insights from McDermott Will & Emery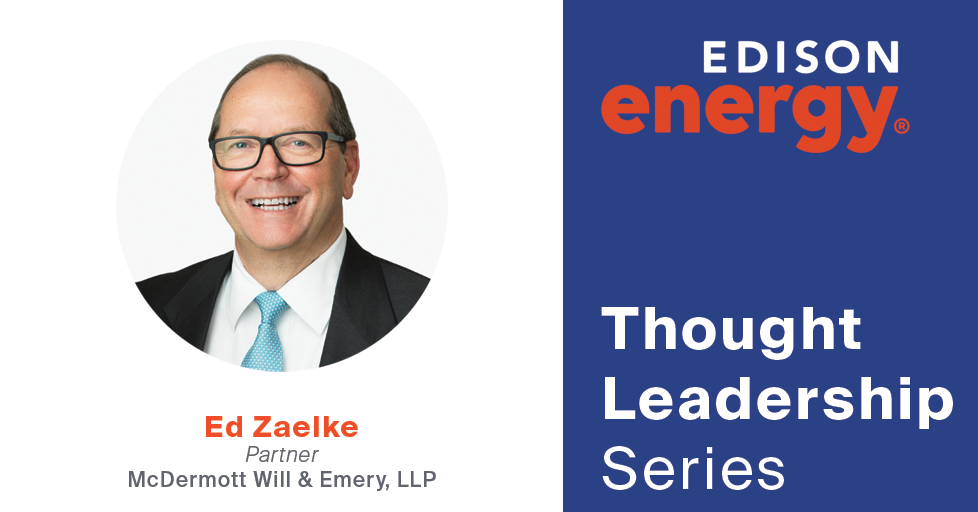 Edison Energy's Thought Leadership Series features conversations with leading experts from across the industry. These thought leaders are driving innovation in energy markets and available solutions for commercial, industrial and institutional energy buyers. Their diverse perspectives and experience offer a real-time view into the transformation happening in the market today.
---
Edward (Ed) Zaelke is the head of McDermott Will & Emery's Global Energy Project Finance group. He focuses his practice on project finance and private equity in renewable energy transactional matters. With more than 30 years of experience, he advises clients on all elements of alternative energy development and finance, including equity and debt financing, merger and acquisition transactions, equipment purchase and sale agreements, power purchase agreements, siting and other real property issues, governmental approvals, and engineering, procurement and construction (EPC) contracts.
What changes have you seen in the tax equity market following the start of the pandemic?
The tax equity market started to tighten as soon as the effects of the pandemic began to be felt. However, unlike 2008, the tax equity market did not dry up entirely. Instead, we have seen what I would consider a moderate pull back by some investors. The result is that deals already in the pipeline are getting done and developers with existing relationships with tax equity providers seem to be able to get new wind and solar tax equity deals approved, unless those deals are particularly risky, such as having high basis issues. Developers without existing tax equity relationships or that are new market entrants are having a hard time finding tax equity, even for projects that have strong financials and that, in normal times, would easily obtain tax equity financing. While these challenges in the tax equity market do not seem to be getting any worse, we have also not seen much improvement either.
Do you see similar things on the debt side?
The debt side was seeing stiff competition among lenders and margins compressing prior to COVID-19. Today, most deals seeking debt are able to find debt, although the margins have increased, in many cases from 35 to 100 basis points over what we previously saw for construction and back levered debt. In addition to COVID issues, due to the drop in oil prices, many banks are impacted by concerns over loans in the oil & gas space. Those lenders seem to be less available. Fortunately, many of the mid-sized banks who have been active in the renewable energy space have limited exposure to the petroleum industry and are continuing to lend.
Have terms in these financing agreements evolved as a result of the pandemic?
We are seeing terms tighten and yields increase a bit in the tax equity deals since the pandemic started. In addition, tax equity providers seem to uniformly be requesting indemnification from the impact of the President's Executive Order regarding Bulk Power Equipment which could restrict the use of certain components from some yet to be identified foreign countries. On the debt side, we have seen little change in terms, other than, as mentioned above, higher margins and, in the case of tax equity bridge loans, a more stringent demonstration that the conditions to tax equity funding can be met.
Do you anticipate increased M&A as a result of the fallout of the pandemic?
We are already seeing an increase in M&A activity. This is primarily driven by the difficulty some developers are having in the tax equity markets. The recent change by Treasury in the safe harbor requirements for continuous construction for PTC and ITC, extending the term from 4 years to 5 years, has allowed some projects to stay on the financing track rather than be sold. Otherwise, the uptick in activity would be much more significant.
Do you see a change in private equity interest in owning renewable projects?
Private equity is still a key driver in the renewable industry and is still seeking to fund development and hold projects. A number of utilities have issued and continue to issue RFPs for renewable projects to replace their aging coal fleet (and due in part to some changes in tax and accounting rules or structures within such rules). This will add at least a couple thousand megawatts of capacity this year and in each of the next two years. As a result, private equity is having to compete with utilities to purchase projects from third party developers. This has encouraged private equity investors to invest with developers at the early stage in a project's development process.. Notwithstanding this competition from utilities and other concerns,, we are still seeing new private equity investors enter the market, especially as international opportunities become more limited during the global recession brought on by the pandemic.
How do corporate PPAs stack up against other options (merchant, utility PPA) in the minds of project owners from a risk perspective?
The merchant option for renewables still has not taken hold. With private equity seeking higher returns, we are seeing a greater portion of some projects taking some merchant risk, however, with limited exception, tax equity investors require that the sale of power be contracted or hedged. As more utilities are opting to own renewables, we are seeing even fewer utility power purchase agreement in most parts of the country (California being the exception where we have seen a number of utility-like PPAs from the CCAs). As a result, while busbar PPAs are often the preferred option, they just are not as available as the development community would like. Corporate PPAs with creditworthy corporate buyers, is often the next best thing. Therefore, the demand for corporate PPAs remains strong and would seem likely to stay that way.
---
Click here to explore more from our Thought Leadership Series or join our email list to keep up to date with the latest insights from the people who are making it happen.