June 21, 2022
What is "Greening of the Grid?"
By Erin Williamson, Manager, Energy & Sustainability Strategy
In this second of a three-part series, Edison Energy's Erin Williamson, Manager, Energy & Sustainability Strategy, addresses how the greening of the grid will help companies understand their pathways to achieving Science-based targets and future Scope 2 reductions.
---
There are rapidly increasing expectations for corporations, governments, higher education institutions, and other entities to account for, manage, and significantly reduce their greenhouse gas (GHG) emissions in line with the Intergovernmental Panel on Climate Change's (IPCC) 1.5oC scenario. Understanding GHG emissions sources and inputs into an entity's carbon footprint is an important first step to meaningful climate action and decarbonization.
In the first part of this series, we reviewed how Scope 2 emissions accounting requires reporting organizations to assess how much purchased electricity they consume, and the emission factors associated with consumption at relevant locations and facilities within their defined boundaries. The emission factor (e.g., pounds of carbon dioxide equivalent per kilowatt-hour (lb/kWh) is derived from the mix of electricity-generating sources such as coal, natural gas, hydro, wind, or solar used to produce the electricity in a given location (for location-based Scope 2) or procurement mix (for market-based Scope 2), which is applied to each unit of electricity (e.g., kWh) purchased by the reporting entity.
As lower carbon electricity generation sources increasingly come online, and more wind, solar, hydro, and nuclear displace fossil fuel generation, it is expected that the default emission factors for purchased electricity will trend down, providing emissions intensity benefits passively without any direct activity by the reporting entity. This reduction is due to changing generation mix broadly recognized as "greening of the grid."
Why Does it Matter?
When embarking on strategic planning for GHG reduction goals, it can be a helpful exercise to incorporate greening of the grid into your modeled forecasts. This forecasts what a future state of "business as usual" emissions might look like, even before executing GHG reduction projects and activities. This can help companies better understand what may be required.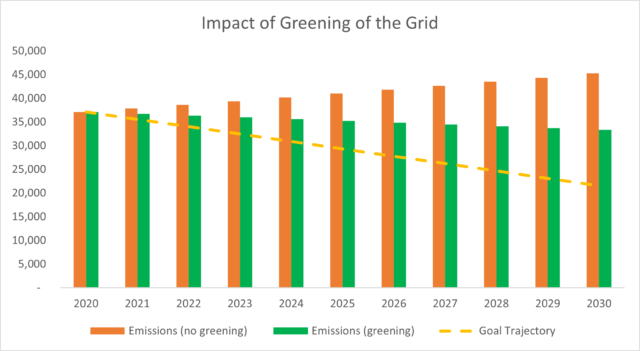 (Note: All values are for example purposes only and do not reflect future emissions or Edison Energy forecasting.)
In the example above and using a base year of 2020 and a 10-year goal period ending in 2030, we have done a simple exercise incorporating a load of 100,000 MWh translated to Scope 2 emissions1. The yellow line represents the absolute emissions reduction goal in line with the Science Based Target Initiative (SBTi)-defined 1.5oC scenario (4.2% annual reduction per year).
We show two series for each year: in orange, the expected emissions trajectory not including the greening of the grid impact (emission factor held constant); in grey, the expected emissions trajectory factoring in the greening of the grid impact (emission factor decrease of 3% per year). By the target year of 2030, instead of ~45,000 MTCO2e total Scope 2 emissions, we're expecting around 33,000 MTCO2e. Rather than having to implement enough GHG reductions to close the gap between the orange bar and the yellow target line, we only need to plan for the gap between the grey bar and the yellow target line.
While forecasting is not an exact science and we recommend a conservative approach to applying assumptions, updating these forecasts regularly through the course of your goal period can provide perspective on actual emissions and uncover where assumptions may need to be updated. The US EPA releases eGRID factors (recommended for U.S.-based, location-based Scope 2 accounting) every year or two, while updated market-based factors from utilities, energy providers, or other procurement decisions may be released at a similar cadence.
Even as emissions are expected to decline as the greening of the grid continues – perhaps significantly – it is unlikely that all electricity globally will be sourced 24/7/365 from zero emissions generation at any point in the future.
When modeling future progress toward corporate GHG reduction targets, organizations cannot simply rely on the passive benefits from the greening of the grid. Without active management, we would not expect electric grid emissions to decrease to the level needed to satisfy ambitious GHG reduction goals. Therefore, organizations will require active management of Scope 2 emissions through efforts like operational energy efficiency and renewable energy procurement.
When considering renewable energy procurement, our clients often ask how the greening of the grid translates into achieving their renewable energy targets. In the next installment, learn how corporate buyers of both traditional electricity and renewable energy can navigate their voluntary claims for using renewable energy increasingly coming onto the grid according to existing and evolving guidance.
---
1 We are using the U.S. national average Emissions & Generation Resource Integrated Database (eGRID) emission factor in the base year of 2020, and assuming 2% annual growth trajectory of electric load as well as a conservative 3% annual decrease in the emission factor (lb CO2e/kWh)1. Note that the eGrid release in January 2021 reflects a ~7.5% decrease in the U.S. national average emission factor from the prior year's release.
---
Explore how Edison Energy helps clients set and achieve their energy and sustainability goals.
Read more
Erin Williamson
Manager, Energy & Sustainability Strategy
I work with clients to support their sustainability needs, from greenhouse gas management to strategic planning to goal setting and beyond.
Prior to joining Edison, I worked in the corporate environmental sustainability office at Northrop Grumman, a Fortune 100 global security company. I handled everything carbon-related and therefore have a client's perspective on navigating the challenges of implementing ambitious decarbonization initiatives. I also led a GHG work group for the International Aerospace Environmental Group, where we were focused on developing industry supplemental guidance on reporting, and I'm proud to have led a huge effort to build a Scope 3 reporting tool and guidance tailored to the complex supply chain of the aerospace and defense industry.
Educational Background
Master of Environmental Science and Management – Bren School at UC Santa Barbara
B.S./B.A. Dual Degree in International Affairs and History – Florida State University