February 21, 2018
On-Campus Energy: How Howard University is Creating the Largest Renewable Energy Project of Any Historically Black College and University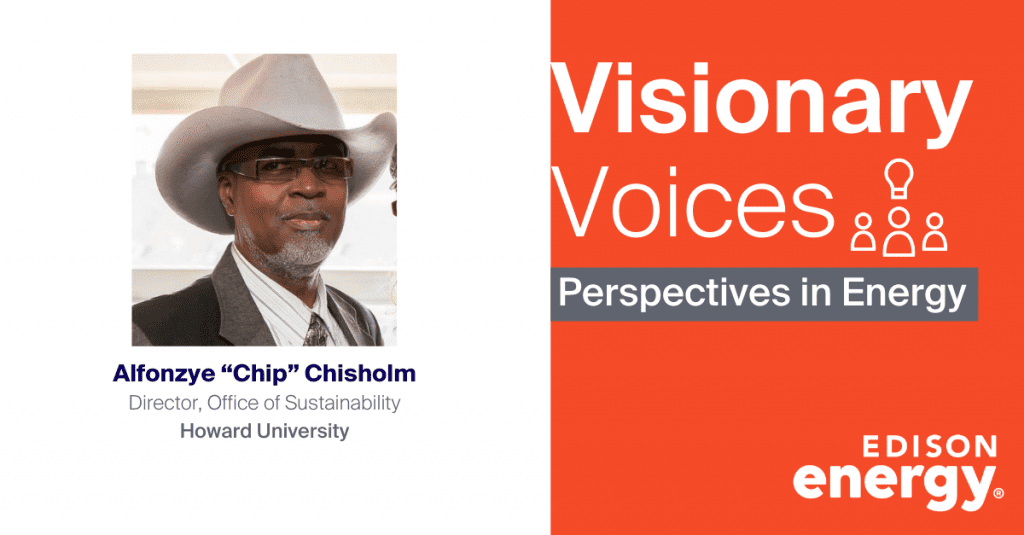 Alfonzye "Chip" Chisholm is a LEED-certified architect by trade and has been the Director, Office of Sustainability at Howard University for the past eight years. Chisholm discusses his thoughts on Howard University's renewable energy projects.
Tell us a little about yourself.
I worked in private practice before entering higher education facilities construction management. As a young architect, I was always interested in passive and active solar building design. I was fortunate enough to have been the principal design architect on several passive solar residences and many commercial buildings, mostly in the Tidewater area of Virginia, where I grew up.
The drive to design buildings that were more Earth-friendly was perfectly aligned with the then newly-evolving principles of sustainability. Although design, I later discovered, was only one part of the puzzle of learning how to live in harmony with the Earth. I consider it a privilege to help protect the Earth's resources for our posterity. At the core, one thing has remained a constant driving force for me: a love for humankind.
Why did you decide to pursue renewable energy?
The bottom-line is it was the right thing to do. But the devil is always in the details. I knew I wanted to help Howard University do a renewable energy deal and lead the way for other historically black colleges and universities (HBCUs), but it took several years to wade through all the options and gain internal buy-in.
Companies were constantly calling me trying to sell me a solution. However, internally it was still a little hard to sell. Finally, both internal and external forces began demanding that Howard "green the University" and this altered the decision-making climate. Energy sustainability became a "must" for us. Students expect it, laws demanded it, and the immediate and long-term financial benefits could no longer be ignored. It seemed like the time was finally right to get something done.
"Renewable energy contracts require specialized expertise to navigate the many energy planning decisions and roadblocks that appear along the way."

Chip Chisholm, AIA, LEED AP

Director, Office of Sustainability
Howard University
Do you have any previous experience with renewables?
No. I only knew what I had learned by reading and collaborating with other universities, companies, and non-profits that were promoting and/or had already moved forward with contracts. As an architect, I am familiar with the procurement process for design and construction services. Renewable energy contracts are different. They require specialized expertise to navigate the many energy planning decisions and roadblocks that appear along the way.
With expert help, we came to understand that we should not be looking to simply bid out the job to a general contractor, or manage the project ourselves, because we are a not-for-profit educational institution — meaning we wouldn't be able to realize all the tax benefits if we owned a solar project ourselves. Edison Energy explained that this is why most universities source renewables using power purchase agreements (PPAs). By using a PPA, we would have no capital costs because a third party owns and operates the project, using their own money. We would just agree to buy the clean electricity it generates and benefit from having this technology on campus. Investors take the tax benefits and pass the savings onto us via a low price for power. This is a win-win scenario for everyone involved.
You're now completing a large on-site solar project at Howard University. Can you tell us about it? How did it come together?
I had been hearing about projects at other universities in the area. I knew the cost of renewable energy had been dropping. Lots of developers were calling me, telling me they could do something for us. I looked into the options but, really, this was new to me, so it was hard to tell which providers were for real. And it was hard to know how to spot the best energy deal. It's not quite like buying a car or a house. With a car, you can look in Kelly Blue Book. For a house, you look at the multi-list service. With solar energy, where do you look for transparent market intelligence?
So, like real estate, I decided I needed an agent. I went to Edison Energy because I knew their folks from having worked with them while they were at the EPA and American University. I trusted them. And their business model fit with our needs — their fee is paid by the winning project developer, not by us. Hard to argue with that because there is no risk on our part. If a deal never happened, we owed nothing. If a deal did happen, it was because the price was right for us, and they get their fee from someone else. It's just like a real estate agent, and that's a model we know and trust.
Edison Energy walked us through our options for both on-site and off-site renewables. We decided to start with on-site to get a good win under our belts before moving to something bigger off-site. We identified the sites on campus suitable for solar. Edison Energy drafted the RFP and sent it to a list of bidders we developed collaboratively. They helped us score the results and select a winner based on a long list of criteria. Then they worked with our counsel to negotiate the Power Purchase Agreement terms. It sounds easy, in retrospect, but barriers popped up at each step of the process.
The good news is that we are now constructing about 1.3 MW of on-site solar, including carports and rooftop arrays, and even including some electric vehicle charging stations. The Power Purchase Agreement price will save us a nice chunk of change over the 20-year contract term, compared to our conventional supply rates.
"Our work in partnership with Edison Energy has resulted in what we believe will be one of the largest renewable energy projects by a single owner in Washington, D.C., and the largest of any HBCU."

Chip Chisholm, AIA, LEED AP

Director, Office of Sustainability
Howard University
What advice would you give to a peer just starting on renewables?
I've learned two main things from this process. First, identify your stakeholders and supporters and keep them informed and in the loop. Everyone needs to have their needs understood and addressed. Second, do your research or, if you are busy with other things like I am, seek out an outside consulting partner to do that for you. Hopefully, this will help you avoid making any costly mistakes.
I want to stress the word "partner." There are lots of meetings requiring lots of specialized data. A good partner will be very flexible and take care of this for you. I'm sure every project is unique, but you don't need to rediscover fire. Be patient and work the process internally, and have the right outside partner supporting the process.
Edison Energy was a good choice for us. Our work in partnership with them has resulted in what we believe will be one of the largest renewable energy projects by a single owner in Washington, D.C., and the largest of any HBCU. Moreover, fitting 1.3 MW of solar energy generation on any tight urban campus: That's just plain big. Whatever your challenges are with renewables, you can get it done. Just be focused and persevere and you'll have your own "firsts" and "biggests" to celebrate.
---
Edison Energy's Visionary Voices: Perspectives in Energy Series features conversations with leading stakeholders from across the commercial, industrial, and institutional energy industries. The experts here have helped their organizations capture the financial-, risk- and sustainability-value of energy; through on- and off-site renewables, through efficiency, and through commodity procurement. Visit frequently or join our email list to keep up to date with the latest insights from the people who are making it happen.
---
Edison Energy is registered as an Introducing Broker with the NFA and additional information on Edison Energy is available at nfa.futures.org