November 3, 2020
How the Changing Oil & Gas Price Correlation is Impacting Regional Production
For decades, onshore production out of the "Big Three" states of Texas, Louisiana and Oklahoma has made up the majority (75-80%) of domestic U.S. oil production. However, as Appalachia gas production has become more prevalent, natural gas production from the Big Three has seen a steadily decline from nearly 75% in 2007 to under 50% in Q3 of 2020. This commodity specific change is just one of the moving parts to an increasingly complicated mix of energy dynamics in the Southwest.
The map below highlights the commodities that will drive future regional production from each of the most profitable plays in the United States. In early 2016, the U.S. began exporting both natural gas and oil, linking the domestic price of both commodities to international influences but separating further from each other and the traditional correlation they once had.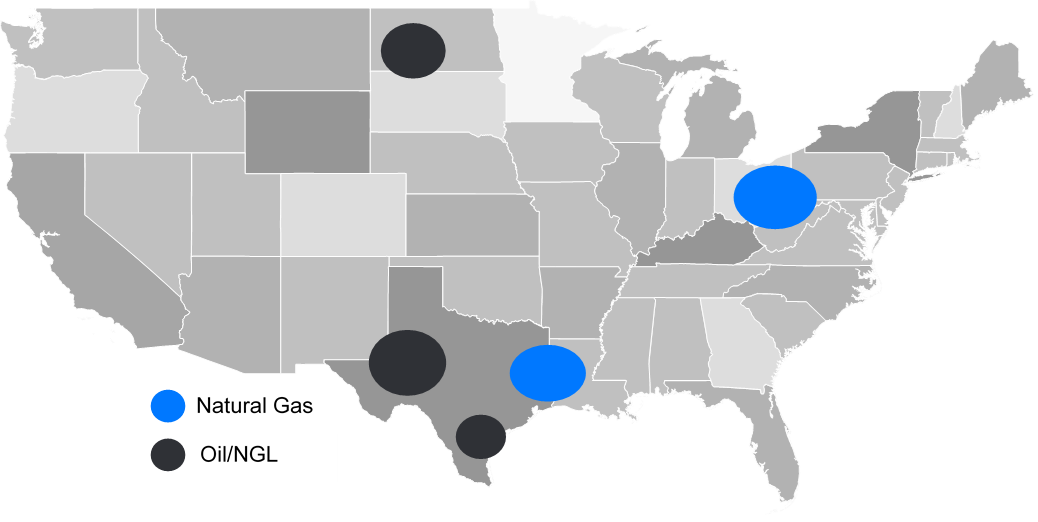 For example, an increase in the price of natural gas futures in Europe or Asia would increase the amount of liquified natural gas (LNG) being exported from United States LNG facilities on the Gulf Coast. LNG has increased from a COVID induced low of 3.3 Bcf/day this summer to a recent high of 8.6 Bcf/day in October, pushing up the Henry Hub futures price. This has facilitated regional production increases in the dry gas regions of the Haynesville (East Texas/West Louisiana) and the Marcellus/Utica plays of Appalachia, while having very little impact in the Oil/NGL plays of west and south Texas or Bakken in North Dakota. Similarly, rumored continuation of the 7.7 million barrel per day cut from OPEC would prop up oil prices, allowing more oil and associated gas to flow from the oil plays but have very little impact on production out of the dry gas areas, thereby creating significant swings in gas flows and additional demand requirements on infrastructure.
While we do not know what the next news headline will be or even where it will be coming from, volatility in the natural gas market should be expected and developing a strategy that mitigates that volatility should be a priority for those looking to avoid it.