November 15, 2022
COP27's rallying cry is "Together for Implementation." Will the private sector deliver?
By Elana Knopp, Senior Content Writer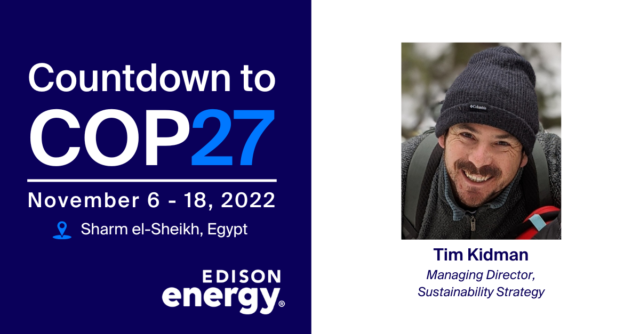 During his opening remarks on the first day of COP27, Simon Stiell, Executive Secretary of the United Nations Framework Convention on Climate Change, told global leaders that with the launch of the climate talks, a new era had begun. "Paris gave us the agreement. Katowice and Glasgow gave us the plan. Sharm El-Sheikh shifts us to implementation."
Tim Kidman, Managing Director of Edison Energy's Sustainability Strategy team, discusses what implementation will mean for the private sector, the need for climate equity, and shifting the narrative of climate "success."
---
Last year, in the days and weeks following COP26, climate pundits came out in full force with their opinions as to whether the global climate summit was a success or a failure.
The verdict?
Well, it was a little bit of both.
The accountability aspect loomed large on the success side of things – leaders of countries were asked to commit to reducing their greenhouse gas emissions – or to pledge, at least partially, to putting a plan into place. Pledges or not, governments and leaders were under global scrutiny.
But many experts said the conference failed – dismally – to deliver on its objectives, largely because the emissions reduction commitments needed to meet the goals of the Paris Agreement fell short.
There were some critical wins, though. The Glasgow Climate Pact did urge countries to phase down coal and fossil-fuel subsidies, although countries were not compelled to phase them out completely. The Pact called on countries to make more ambitious commitments one year later in 2022 – expedited from the original five-year timeline. Countries also agreed on rules for international carbon markets.
There was movement from India and China – two top-emitting countries – while hundreds of financial institutions, including banks and pension funds, committed to use their collective managed funds to reach net-zero emissions by 2050. Slashing methane emissions, halting and reversing deforestation, and ramping up zero-emissions vehicles were other major headlines.
Yet some of the largest global economies failed to make meaningful commitments to meet the 1.5-degree Celsius target.
So, with a new round of ongoing climate talks, where are we now?
"I think COP26 was a recognition that we are not going fast enough," said Tim Kidman, Managing Director of Edison Energy's Sustainability Strategy team. "Taken together, the Nationally Determined Contributions weren't going to be sufficient to keep warming below 1.5 degrees Celsius, but I guess there's nothing like impending failure to motivate action."
For the private sector, this presents an opportunity to highlight its progress and leadership and to support the public sector in stepping up to meet the decarbonization challenge, said Kidman.
"We've seen continued expansion around net-zero targets aligned to 1.5 degrees Celsius alongside clearer focus on climate equity, and I think that will broadly showcase the progress and commitment from the private sector," he said.
Indeed, COP27 – which wraps up this week – has been positioned as a "golden opportunity" for stakeholders to commit to bolder – and faster – climate targets.
The goal is for countries to take action on climate change through concerted, collaborative, and impactful action towards the common good, rather than playing out as a zero-sum scenario.
"There's a lot to do – many of the solutions are well-tested and relatively risk-free, but other challenges loom large," Kidman said. "There will always be some amount of uncertainty ahead of us, but we cannot be paralyzed by it, nor can we afford to be complacent. We need to double down on all the opportunities available and really implement deeper decarbonization."
Leveraging the private sector
COP27 has laid out four primary levers – Mitigation, Adaptation, Finance, and Collaboration – as a way to accelerate global climate action through emissions reduction, scaled-up adaptation efforts, and enhanced flows of appropriate finance.
"Some of the biggest needs are really around adaptation," Kidman said. "We've seen more severe climate impacts around the world this year – flooding in Bangladesh, Hurricane Ian in the U.S. I'm encouraged by the focus on loss and damages. While we've seen devastating climate impacts here in the U.S., they pale in comparison to the impacts that the developed world's carbon addiction will impose on the Global South."
With renewable energy-friendly policies and strategies ramping up across the globe – the Inflation Reduction Act in the U.S and REPowerEU in Europe are just two examples – the sector has been given a significant boost to deploy more clean energy onto the grid.
"We need to build off the momentum with renewable energy in particular, and increase ambition by governments," Kidman said. "At the same time, we need to recognize those devastating impacts we're already seeing and to make sure that the most vulnerable populations are being protected and funded."
Adequacy and predictability of climate finance will be key at COP27. Twelve years ago, at COP15 in Copenhagen, developed countries committed to funnel $100 billion annually in climate funding to more vulnerable nations by 2020. That target has been missed. Developed countries were also urged to double their collective amount of funding by 2025 to help developing countries adapt to the effects of climate change.
"One of the challenges I've been personally thinking about a lot is our focus on specific dates," Kidman said. "And do we risk presenting climate success as binary if those dates aren't met? Honestly, there's no such thing as success right now – too much damage has already been done. But what we can do, and must do, is minimize that damage by doing as much as we can every year."
This is where the private sector can leverage its innovation and ambition to implement bold and immediate action as a means to knock down existing barriers.
"The private sector is at its best when it leads by example," Kidman said. "We can build the credibility to influence policy, influence leaders, and help move the narrative and the discussion forward and be a proving ground for what's possible. We can test some of the technology and bring it to scale because it's going to need massive scale for societal benefit. Some of the corporations we work with have incredible scale themselves, but if that scale can bring technology and solutions to the market that can be deployed more broadly, breaking those barriers is going to be more impactful than reducing their own emissions."
So, once COP27 wraps up on November 18, can society even hint at the idea of success?
Yes, says Kidman. But that will mean shifting the definition of 'success,' and how that can be achieved.
"Success looks like putting ourselves on a path to sustained, deeply embedded progress and commitment that will be steady and consistent over time," he said. "It doesn't look like something flashy that lights up on a billboard. Success looks like entrenched commitment within our institutions. And if there's one thing that could really move the needle, I think it would be the depoliticization of climate change, climate science, and the economics of what it means to transition to a clean economy."
---
Edison Energy helps clients set and achieve their energy and sustainability goals.
Learn about our Sustainability Advisory practice.
Read More