September 13, 2023
Bespoke vs. pre-packaged energy storage systems
By Kyle Manahan, Senior Manager, Energy Storage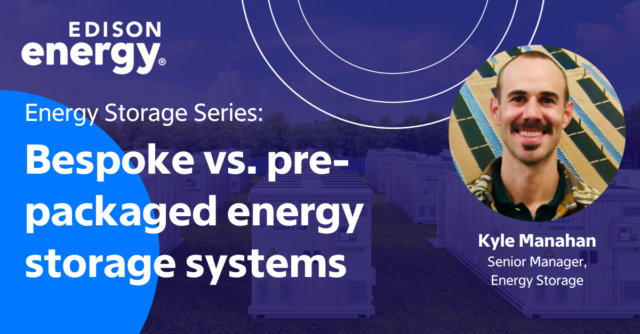 In case you missed it, click here to read the second installment of our Energy Storage series discussing the business case for a storage project.
---
In the past several years, the energy storage marketplace has expanded from bespoke battery systems to newer pre-packaged systems that combine batteries with the supporting equipment you'll need to run the system and meet code.
The supporting equipment typically includes the equipment housing; battery management system; fire suppression system; heating, ventilation and air conditioning system; and power conversion system.
The smallest versions of these systems can be wall mounted. Medium-sized versions house a single battery rack. The larger systems may house many battery racks, typically in custom-built ISO containers. These pre-packaged battery systems come factory assembled, streamlining installation and integration.
The alternative to pre-packaged systems is to source, integrate, and package the various components of a battery system for a given application. This can provide the ability to size a battery system more precisely, while avoiding the additional margins system integrators contribute to the cost of a pre-packaged system.
The additional complications and risks involved in this approach mean it should only be tackled by qualified designers, however. Without careful planning, the additional costs involved in this approach often exceed the benefits, especially if the size of the system is not particularly large.
Edison Energy focuses on these considerations when advising customers exploring battery system possibilities, whether on fitting pre-packaged systems to your facility or custom-designing bespoke solutions based on your specific energy needs.
Edison Energy has been involved in the energy market in multiple states and brings years of experience in the analysis, design, development, implementation, and management of all types of energy conservation and energy projects. Our services help you find the optimized energy storage solution that will fit your operational needs.
---
In our next post in the series, we'll be talking about how to size a storage project. In the meantime, feel free to REACH OUT to Edison Energy as your storage experts and learn more about how we can help you tackle your energy storage needs.
Edison Energy is your expert in end-to-end support for commercial, industrial, and utility scale solar and storage projects.
Explore our Solar & Storage services.
Learn more